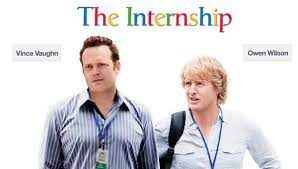 After salesmen Billy McMahon and Nick Campbell's employer goes out of business, Billy applies for Google internships for them both. They are accepted due to their unorthodox interview answers, despite a lack of relevant experience and not being of traditional collegiate age. They will spend the summer competing in teams against other interns in a variety of tasks, with only members of the winning team guaranteed jobs with Google. Billy and Nick's team is lead by Lyle, who constantly tries to act hip to hide his insecurities, and its other members are seen as rejects. The smartphone addicted Stuart, the tiger-parented Filipino Yo-Yo, and Indian American nerd-related kink enthusiast Neha.
Rating: 12A
Run Time: 119 Minutes
Release date: June 7, 2013
Director: Shawn Levy
Screenplay by: Vince Vaughn
Producer: Vince Vaughn, Shawn Levy
Cast.
Vince Vaughn as Billy McMahon
Owen Wilson as Nick Campbell
Rose Byrne as Dana Simms
Max Minghella as Graham Hawtrey
Dylan O'Brien as Stuart Twombly
Josh Brener as Lyle Spaulding
Tiya Sircar as Neha Patel
Tobit Raphael as Yo-Yo Santos
Bruce Anato as Sal
Rob Riggle as Randy
Sergey Brin (cameo) as himself