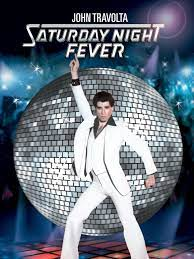 Anxious about his future after high school, a 19-year-old Italian-American from Brooklyn tries to escape the harsh reality of his bleak family life by dominating the dance floor at the local disco.
Running time: 118 Minutes.
Rating: R
Second Release rating: PG
Run time: 112 minutes
Directed by: John Badham
Distributed by: Paramount films.
Cast.
John Travolta as Anthony "Tony" Manero
Karen Lynn Gorney as Stephanie Mangano
Barry Miller as Bobby C.
Joseph Cali as Joey
Paul Pape as Double J.
Donna Pescow as Annette
Bruce Ornstein as Gus
Val Bisoglio as Frank Manero, Sr.
Julie Bovasso as Flo Manero
Martin Shakar as Frank Manero, Jr.
Lisa Peluso as Linda Manero
Nina Hansen as Grandmother
Sam Coppola as Dan Fusco
Denny Dillon as Doreen
Bert Michaels as Pete
Fran Drescher as Connie
Monti Rock III as the DJ
Robert Weil as Becker
Shelly Batt as Girl in Disco
Donald Gantry as Jay Langhart
Ellen March as Bartender
William Andrews as Detective Robert
Costanzo as paint store customer
Helen Travolta (John's mother) as paint store customer
Ann Travolta (John's sister) as pizza girl