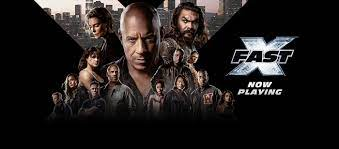 Over many missions and against impossible odds, Dom Toretto (Vin Diesel) and his family have outsmarted, out-nerved and outdriven every foe in their path. Now, they confront the most lethal opponent they've ever faced: A terrifying threat emerging from the shadows of the past who's fueled by blood revenge, and who is determined to shatter this family and destroy everything–and everyone–that Dom loves, forever.
· Rating: PG-13 (Intense Sequences of Violence|Action|Language|Some Suggestive Material)
· Genre: Action, Adventure
· Original Language: English
· Director: Louis Leterrier
· Producer: Neal H. Moritz, Vin Diesel, Justin Lin, Jeff Kirschenbaum, Samantha Vincent
· Writer: Justin Lin, Dan Mazeau
· Release Date (Theaters): May 19, 2023
Runtime: 2h 21m
Distributor: Universal Pictures
Production Co: Original Film, Perfect Storm Entertainment, One Race Films
Cast.
Dominic Toretto
Letty
Roman
Tej
Dante
Ramsey
Mia
Jakob
Shaw
Han
Aimes
Isabel
Little Nobody
Queenie
Cipher
Tess
Abuelita
Buddy