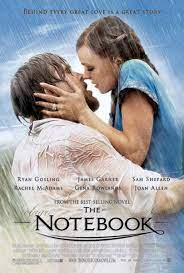 In 1940s South Carolina, mill worker Noah Calhoun (Ryan Gosling) and rich girl Allie (Rachel McAdams) are desperately in love. But her parents don't approve. When Noah goes off to serve in World War II, it seems to mark the end of their love affair. In the interim, Allie becomes involved with another man (James Marsden). But when Noah returns to their small town years later, on the cusp of Allie's marriage, it soon becomes clear that their romance is anything but over.
· Rating: PG-13 (Some Sexuality)
· Genre: Romance, Drama
· Original Language: English
· Director: Nick Cassavetes
· Producer: Mark Johnson, Lynn Harris
· Writer: Nick Cassavetes, Jeremy Leven, Nicholas Sparks, Jan Sardi
· Release Date (Theaters): Jun 25, 2004 Wide
Runtime: 2h 4m
Distributor: New Line Cinema
Cast.
Noah Calhoun
Allie Hamilton
Duke
Allie Calhoun
Lon
Fin
Frank Calhoun
Anne Hamilton
John Hamilton
Martha Shaw
Sara Tuffington