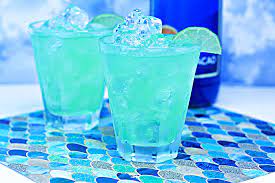 To celebrate the release of the live action movie of the little mermaid, why not try out this boozy rum cocktail that Ariel herself would be proud of!
What you'll need.
4 oz coconut rum
2 oz Banana Rum
1 oz blue Curacao
8 oz pineapple juice
1/2 oz fresh lime juice
lime slices, for garnish
ice cubes
How to make it.
You are going to love everything about this tropical mermaid drink, including the fact that it's so darn easy to make! Because it's so easy, you might as well make a couple! (or as many as you want, I won't judge!)
Pour in the coconut rum, banana rum, pineapple juice, and lime juice into a large pitcher.
Stir everything up.
Drizzle in some Blue Curacao
Place some ice in some glasses, put in a few lime slices and pour in rum mixture.
That's it! Put on lime slices for a garnish and go to flavour town sipping on this delightful and refreshing blue mermaid drink.