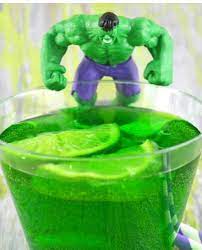 The Hammered Hulk Cocktail is a perfect drink for those who love superheroes and colorful cocktails. This bright green drink is made with coconut rum, Midori, and other ingredients that create a tropical and fruity taste. It's not too sweet, and it's not just for girls.
The color alone is enough to make you want to try it. This cocktail is perfect for St. Patrick's Day or any other holiday where you want to add some fun and color to your drink. If you're a fan of fruity and fizzy cocktails, then the Hammered Hulk is definitely worth a try.
What you'll need.
Ice
1 ounce Vodka
1 ounce Coconut rum
½ ounce Midori
¼ ounce Blue Curacao
2 ounces Club soda
2 ounces Sprite
1 squeeze lemon juice
1 squeeze lime juice
How to make it.
Add the vodka, rum, Midori, and Blue Curacao to shaker with a few ice cubes in it.
Shake vigorously.
Strain into an on the rocks glass filled with ice.
Pour in the club soda and Sprite
Squeeze the lemon and lime into the drink.