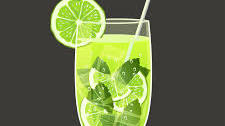 For all you retro gamers out there, why not try this colourful cocktail based on one of the biggest selling games of all time.
What you'll need.
1 oz of Maraschino liqueur (or cherry liqueur)
1 oz of Strawberry Schnapps
1 oz of peach schnapps
2 oz of apple juice
2 oz of Pineapple Juice
How to make it.
Add the ingredients in the chronological 'level' order (cherry > strawberry > peach > apple > pineapple), stir, and serve in a highball glass on the rocks. The glass is then garnished with a banana slice that has been cut to resemble Pac-Man's open-mouthed head!