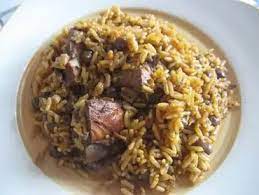 Prep Time, 1 hr 15 mins,
Cook Time, 40 mins,
Total Time, 1 hr 55 mins,
Course: Rice Dishes,
Cuisine: creole,
Ingredients.
TO SEASON CHICKEN:
2 lbs. chicken,
2 bundles chive chopped,
3 cloves garlic chopped,
1 onion chopped,
1 dash oregano,
1 dash parsley,
1 dash paprika,
1 tsp. salt,
4 tbsp. green seasoning,
2 big leaf thyme,
1 sprig spanish thyme,
5 sprigs fine leaf thyme,
1 pimento chopped,
1 celery chopped,
4 leaves chadon beni chopped,
4 leaves culantro, chopped,
1 lime, * 1 tbsp. sugar,
1 tin pigeon peas 440g,
2 tbsp. oil, * 2 ½ cups rice,
1 cup coconut milk,
½ cup pumpkin chopped,
3 tbsp. tomato paste,
2 tbsp. golden ray margarine or butter,
Water,
Instructions.
Wash the herbs and set aside. Cut up the chicken and wash with lime. Season with the herbs and green seasoning, oregano, paprika, parsley, green seasoning, big leaf thyme, Spanish thyme, fine leaf thyme, pimento, garlic, chive, onion, salt, celery and culantro (chadon beni). Marinate for at least 1 hour. Overnight is best!
Over a medium flame, caramelize the sugar. Add the chicken. Warning: Be careful when you do this part because caramelized sugar gives a nasty burn. Don't drop the chicken into the pot – lay it gently. Probably this is another reason why I stopped caramelizing the sugar directly in the oil, since you are more susceptible to getting burned. Allow to coat evenly with the sugar and let it cook in its own juices for about 3 minutes.
Add about ½ cup water and the 2 tablespoon of oil. Simmer for about 4 minutes. Add the pigeon peas, pumpkin,and ½ cup of water. Allow to simmer for about 4 minutes. Add 1 cup of coconut milk and the rice. Stir the pot to mix the ingredients.
Add the golden ray margarine and tomato paste. Allow to simmer until the rice is cooked. Occasionally stir the pot. When the rice is cooked lower the flame very low and allow the excess water to evaporate. It is normal for some of the rice to stick at the bottom of the pot, so don't be alarmed. The rice that sticks to the bottom is called "bun bun" . In fact most Trinis, even me, like to eat the "bun bun". It is perhaps the best part of the pelau!
Serve hot with cole slaw.