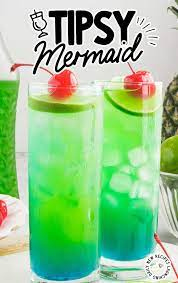 What you'll need.
Ice
1/4 a cup of Midori (Optional)
1 Bottle of Prosecco or Champagne
1 1/2 cups of Pineapple Juice
1 cup of light Rum
2 cans of Seltzer
Pineapple wedges and Maraschino Cherries to garnish.
How to make it.
Fill a large punch bowl with Ice then pour over the Blue Curacao and Midori (if using).
Top up with Prosecco, Pineapple juice, Rum and Seltzer.
Add the pineapples and cherries.
Stir to combine and serve immediately!
And now I have mine made up I'm off to enjoy drinking it
.