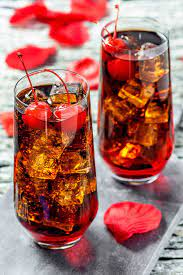 This vampire-inspired cocktail comes together using pink cranberry juice, black cherry juice, grenadine, and lime juice, giving it its ghastly, blood-red hue. A candied blood-droplet rim and a set of frightening fangs garnish this sweet yet tart Halloween beverage. These wicked ingredients are coalescing into a macabre concoction that will have you sinking your teeth in again and again.
What you'll need.
For the candied blood droplet rim:
2 tablespoons black cherry juice
2 tablespoons light corn syrup
10 drops red food coloring
For The Dracula's Kiss Cocktail:
Ice
2-ounces vodka
2-ounces pink cranberry juice cocktail
1-ounce black cherry juice
1-ounce grenadine
1 tablespoon lime juice
Candied blood (for rim)
Vampire teeth (for garnish)
How to make it.
FOR THE BLOOD DROPLET RIM:
1. To a small saucepan over medium-high heat, add light corn syrup and black cherry juice. Stir to mix. Bring to a boil (about 5 minutes) then reduce contents to a simmer. Simmer for 5 minutes or so while continuing to stir. Allow to cool to room temperature. You can rush this by refrigerating the syrup for 20-30 minutes.
2. Add red food coloring. Stir to combine. The "blood" will be highly viscous, allowing it to stay in droplets on or near the rim of the glass for long periods of time.
FOR DRACULA'S KISS – HALLOWEEN COCKTAIL:
1. Using a spoon, scoop out a small amount of the candied blood. A little goes a long way! Transfer the candied blood to the rim of your glass by tapping the spoon along the rim of your glass. Keep in mind that the "blood" will drip, even if you add the smallest amount to the rim. Start by adding very little and add more, if you need. Continue this process until you've coated the circumference of the rim.
2. To a tall glass (or a cocktail shaker), add ice, vodka, pink cranberry juice, black cherry juice, grenadine, and lime juice. Stir with a bar spoon (or shake) for about 20 seconds. Strain into prepared cocktail glass. Garnish with plastic vampire teeth.