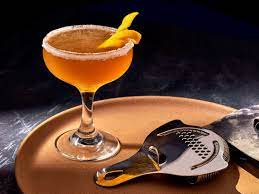 Try your hand at recreating a classic 1920s cocktail, the sidecar. It's easy to adapt – simply use cognac, or go with equal parts cognac, triple sec and lemon juice
What you'll need.
50ml cognac
25ml lemon juice
handful of ice
To serve
dash of Angostura bitters (optional)
How to make it.
STEP 1
Put a coupe glass in the fridge to chill. Tip all of the ingredients into a cocktail shaker.
STEP 2
Shake well, until the outside of the shaker feels cold, then strain the cocktail into the chilled glass. If the lemon juice is too sharp, add the bitters to taste.