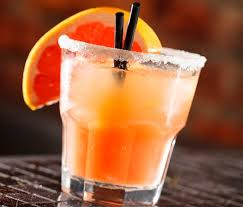 Check out this quick and easy summer cocktail recipe with mezcal, zesty limes and sweet yet slightly bitter grapefruit juice. A paloma is usually made with tequila but using mezcal instead adds a lovely smoky edge to the drink.
What you'll need.
· 3 tbsp mezcal
· 3 tbsp ruby grapefruit juice
· 2 tbsp lime juice
· 2 tbsp honey syrup, see notes below
· a splash (optional) soda water
· to serve grapefruit peel twists or grapefruit wedges
CITRUS-CHILLI SALT
· 1 tsp mild chilli powder
· 2 tsp sea salt flakes
· 1 lime, zested
How to make it.
· STEP 1
For the citrus-chilli salt, mix together all of the ingredients on a plate. Rub a lime or grapefruit wedge around the rims of 2 coupe glasses then press into the salt mixture.
· STEP 2
Pour the mezcal, grapefruit juice, lime juice and honey syrup into a cocktail shaker, top up with ice and shake really well. Pour through a fine sieve into the glasses, adding a splash of soda water, if you like, to give the cocktail a little fizz. Garnish with a twist of grapefruit peel or a grapefruit wedge.