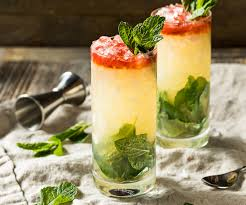 You're going to put your skills of swizzling and layering to the test with a photo-worthy cocktail straight from Trinidad.
What you'll need.
· 6-10 fresh mint leaves
· 2 ounces demerara rum OR aged rum
· 1 ounce freshly squeezed lime juice
· 1 ounce simple syrup
· 2 dashes aromatic bitters
· Ice
· Aromatic bitters for garnish
How to make it.
1. In a highball or collins glass, muddle mint with simple syrup.
2. Add ice, rum, lime juice, and bitters.
3. Stir to mix.
4. Fill the glass half way with crushed ice.
5. Briefly stir with a swizzle stick or bar spoon.
6. Fill the glass completely with crushed ice.
7. Garnish with two dashes of aromatic bitters, do not stir.