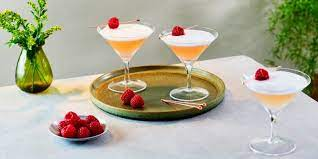 King Charles is partial to a martini, famed for being one of the strongest and most alcoholic drinks on every menu. It has been reported that HRH supposedly enjoys a gin martini every night.
The punch-packing cocktail is typically comprised of one part of vermouth to about four parts of gin or vodka, but the fun comes in putting your own twist to it. Charles enjoys his martinis wet, with equal portions of gin and dry vermouth.
What better way to celebrate the King's coronation on May 6 than by toasting the royals' ascension with a fruity martini?
What you'll need.
45ml Gin
20 ml fresh lemon juice
15 ml sugar syrup
5 fresh Raspberries
Viola flower to garnish (optional)
How to make it.
Step 1 – Add 45ml of Bombay Sapphire gin to the shaker alongside 20ml of freshly squeezed lemon juice.
Step 2 – Mix 1 part sugar syrup, 1 part water, before adding 5 fresh raspberries.
Step 3 – Add ice cubes and shake hard for 15 seconds.
Step 4 – Use a strainer to separate the solid raspberries and lemon juice liquid from the cocktail. Enjoy!