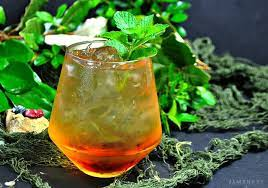 For all you Jurassic Park lovers out there, this Peach Mint Julep is perfect for peach season and is great for a themed Jurassic Park/World party. This Jurassic Julep is themed to look like the original Jurassic Park colors.
What you'll need.
1 cup ice
2 Ounces Bourbon
3 sprigs mint 2 for the cocktail 1 as garnish
1/2 Ounces mint syrup
1 tsp. Peach syrup
3 Ounces Lemon-lime soda
How to make it.
1. Dice your mint very fine.
Add your mint to a small bowl and muddle to a paste.
In a cocktail shaker, add the mint syrup, ice, bourbon, fresh muddled mint, and peach syrup.
Shake for 30 seconds.
Pour into the chilled glass.
Top with lemon-lime soda.
Garnish with a mint sprig.