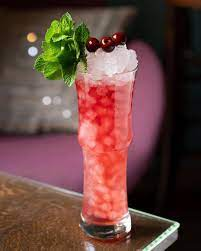 As the lovely Mary has always led us to believe, a spoon full of sugar helps the medicine go down, but I reckon this little number will work in exactly the same way.  Why not try this supercalifragilisticexpialidocious cocktail for yourselves!
What you'll need.
1/2 oz Grenadine
1/4 oz Fresh lime juice
5 oz Ginger ale
Garnish: Luxardo maraschino cherries
How to make it.
Fill a Collins glass with cubed ice.
Pour in grenadine and lime juice.
Top with ginger ale and gently stir to combine.
Garnish with 2 skewered Luxardo maraschino cherries.