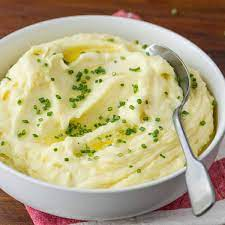 Course: Vegetarian,
Cuisine: Fusion,
Ingredients,
2 lbs. red skin potatoes washed,
1 head garlic about 27 to 30 cloves, unpeeled,
2 tbsp. unsalted butter,
1 tbsp. flour,
¾ cup evaporated milk,
1 tbsp parsley,
1 tbsp chadon beni minced (optional),
1 tbsp onion grated,
Salt to taste,
Pepper to taste,
Instructions,
Boil potatoes in salted water until tender, (approx 15 minutes) drain, peel and mash.
Boil garlic in water 2 minutes drain, peel and grate finely.
Note: This step is optional. If you don't want to taste pieces of the grated garlic you can saute it whole following the steps. Then, after you make the bechamel sauce you can puree it in a blender to make it smoother.
Melt butter over medium flame and saute garlic and onion until soft.
Stir in flour; cook 2 minutes.
Stir in milk; cook until thickened, 3–4 minutes.
Add to the bechamel sauce: parsley, salt, chadon beni (optional) and pepper; mix well.
Transfer the sauce to the bowl of mashed potatoes.
Mix well. Serve warm.