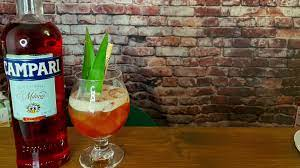 Aside from his questionable grasp of the French language and his unreliable business skills, Del Boy is known for his love of a good cocktail.
While we can't bless you with a three-wheeled yellow car or even a flat cap, we can help you recreate a Caribbean Stallion in your very own home. Read on mon cherie.
What you'll need.
25 ml (1 oz) tequila
25 ml (1 oz) Malibu
25 ml (1 oz) crème de menthe
Smidgen of Campari
Merest suggestion of Angostura bitters
Fresh grapefruit juice to taste
Slice of orange to garnish
Wedge of lime to garnish
Seasonal fruits to garnish
How to make it.
Stir ingredients over ice in a mixing glass,
strain into a highball glass and garnish with a slice of orange, a wedge of lime, occasional seasonal fruits, a decorative plastic umbrella, two translucent straws, and voilà!
This time next year, we'll be cocktail millionaires!!