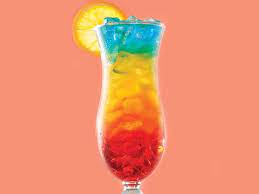 What you'll need.
1 ounce of grenadine
1 cup of crushed ice
4 ounces of Hy Vee 100 percent no sugar added pineapple juice
2 ounces of coconut rum
1 ounce water
½ an ounce of blue curacao
An orange slice to garnish
How to make it.
Step 1
Add grenadine to a 12-oz. hurricane glass. Fill glass with ice.
Step2
Combine pineapple juice and coconut rum in a glass measuring cup; slowly pour mixture over ice in glass.
Step3
Combine water and blue curacao and slowly pour over pineapple-rum layer. Garnish with an orange slice, if desired.