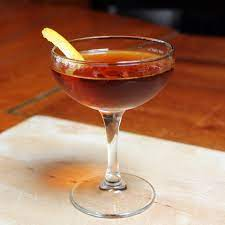 Something of a cross between a martini and a manhattan, this super-chic cocktail combines gin, vermouth and maraschino liqueur with bitters.
What you'll need.
40ml dry gin
25ml red vermouth
5ml Luxardo Maraschino Liqueur
dash of Angostura bitters
orange twist, to garnish
How to make it.
Step 1.
Fill a mixing glass two-thirds full with ice and add the ingredients. Stir for 20-30 seconds, then strain into a coupe glass. Garnish with an orange twist.