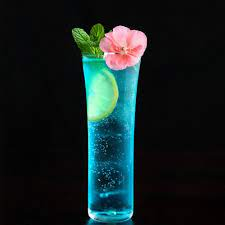 With four different types of liquor involved, this cocktail will no doubt knock you out for the night. Say Adios to the bartender and hello to your hangover.
What you'll need.
1/2 ounce vodka
1/2 ounce tequila
1/2 ounce gin
1/2 ounce blue curaçao
2 ounces sweet-and-sour mix*
Sprite or 7Up, to top
Garnish: lemon wedge (optional)
Garnish: preserved cherry (optional
How to make it.
Add the vodka, rum, tequila, gin, blue curaçao and sweet-and-sour mix to a highball glass with ice and stir.
Top with Sprite or 7Up.
Garnish with a lemon wedge and preserved cherry, if desired.
*Sweet-and-sour mix: Mix 1 part sugar with 1 part water. Add fresh lime and/or lemon juice to taste.