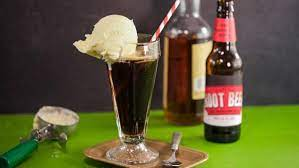 Why not get nostalgic and dance around your living room while enjoying this movie inspired cocktail.
What you'll need.
1 1/2 ounces dark, spiced rum
1 bottle root beer, preferred brand Virgil's
1 scoop vanilla ice cream
Chipotle chili powder (for garnish)
How to make it.
1. Pour the rum and root beer into a fountain glass.
2. Top with a scoop of ice cream.
3. Dust the ice cream with chilli.
4. Garnish with a parfait spoon and a straw.
5. Pretend you are a T Bird or a Pink Lady and enjoy!