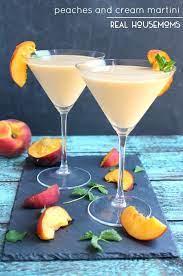 This fresh peaches and cream cocktail screams summer. Peaches, peach schnapps, and vodka combine in this simple yet tasty frozen drink.
.Prep Time: 5 mins
Total Time: 5 mins
Servings: 1
What you'll need.
1 cup ice
1 1/2 cups peeled and chopped fresh peaches
1/4 cup peach schnapps
1/4 cup whipped vodka frozen whipped topping (such as Cool Whip®), thawed,
for rim peach slice for garnish
How to make it.
Step 1 Place ice in a blender and crush for 15 to 20 seconds. Add fresh peaches, peach schnapps, and whipped vodka. Blend until smooth.
Step 2 Rim glass with frozen whipped topping. Pour cocktail into glass and serve garnished with peach slice.