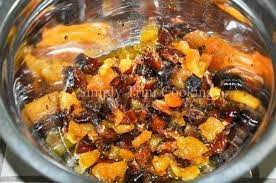 Prep Time, 10 mins,
Cook Time, 20 mins,
Total Time, 30 mins,
Course: Desserts,
Cuisine: Caribbean, Fusion,
Servings: 18,
Ingredients.
1 ⅓ c rolled oats,
1 c chopped dates,
¾ c enriched flour,
¼ c wheat flour,
½ c unsalted butter,
½ c walnuts or almonds or peanuts,
½ c chopped dried apricots sunsweet california sun dried,
¼ c. coconut oil,
2 eggs beaten,
1 ½ tsp baking powder or 1 tsp. baking soda,
1 tsp. vanilla,
¾ tsp. cinnamon,
¼ tsp. nutmeg,
Instructions.
In saucepan, melt butter and add the oil. Add dates and apricots. Stir then remove from heat and set aside to cool.
In the mean time, combine dry ingredients. Beat the egg and vanilla together.
Add to the fruit mixture, then pour over the dry ingredients. Mix well.
Pour in a greased baking dish (9×13 inch pan). Bake in an oven for 20 min at 350 degrees F. Cool and cut.
Serve cool.