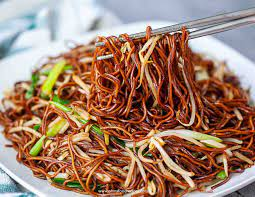 Course: Pasta,
Cuisine: Chinese, Chinese /Caribbean,
Keyword noodles, soy sauce noodles, stir fry noodles,
Prep Time, 5 minutes,
Cook Time, 8 minutes,
Total Time, 13 minutes,
Servings: 6 servings,
Ingredients.
368 grams 1 pack egg noodles,
water to boil,
1 tbsp. oil for sautéing,
1 medium onion sliced,
1 medium sweet pepper chopped,
1 tbsp. oyster sauce,
1 tbsp. soy sauce,
1 tsp. white sugar,
¼ tsp. sesame oil,
fresh chopped chives for garnish optional,
Note: other veggies can be used as well.
Instructions.
First, boil the noodles in unsalted water according to package instructions. Drain and set aside.
Place sauté pan over medium heat and heat oil for 1 minute. Add onion and sauté for 1 minute, followed by optional veggies. Cook until wilted (about 2 minutes). Then add noodles, Soy sauce, oyster sauce, white sugar and lastly add sesame oil. Turn off stove and toss.
Garnish with chopped chives (optional).
Serve warm.