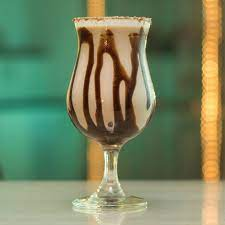 Chocolate lovers rejoice! This cocktail is appropriately named "death by chocolate" because it is heavy on chocolate and is guaranteed to kill your sweet tooth craving. One blender makes a pretty tall drink for one person, so you might want to grab a fellow chocoholic to join the party. Or, of course, keep it all to yourself.
What you'll need.
30ml chocolate vodka
30ml kahlúa
30ml dark crème de cacao liqueur
2 large scoops of chocolate ice cream
2 tbsp chocolate syrup
230ml of crushed ice
Whipped cream and maraschino cherries to garnish
How to make it.
In a blender, pour the vodka, coffee and chocolate liqueurs. then add the ice cream, chocolate syrup, and crushed ice.
Blend until smooth then pour into tall glasses, top with whipped cream and cherries and serve.
If the drink is too chocolatey, As an added fruity twist, swap the chocolate vodka for strawberry vodka.
Bliss!