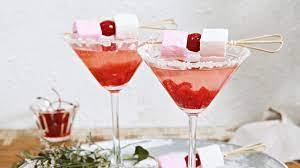 What you'll need.
4 white marshmallows
4 maraschino cherries
4 pink marshmallows
1 lime wedge
1/2 cup of coconut flakes
1/3 cup of quartered glace cherries
3/4 cup of malibu
1/4 cup of coconut syrup
Chilled soda water to serve.
How to make it.
Thread 1 white marshmallow, 1 maraschino cherry and 1 pink marshmallow onto a short skewer. Repeat to make 4 skewers.
Place coconut on a plate. Rub the lime wedge around the rim of 4 martini glasses. Dip in coconut to coat the rim.
Place quartered cherries in the base of prepared glasses.
Combine Malibu rum and coconut syrup in a jug. Divide evenly among glasses. Top up with soda water. Garnish with skewers. Serve immediately.