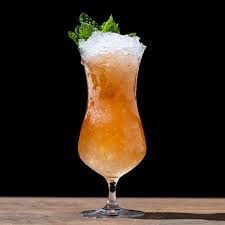 Like your cocktails intense? This punchy cocktail comes packed with three types of rum, anise liqueur and Angostura bitters.
What is a zombie?
One of the classic tiki drinks, the zombie is thought to have emerged in the 1930s at the Don the Beachcomber tiki bar in Hollywood. It's a complex blend of three different rums, fruit juices and other ingredients such as anise liqueur, bitters and grenadine, and packs a punch – one or two is more than enough.
What you'll need.
25ml white rum
25ml dark rum
1 tbsp (we used Two Drifters Overproof Spiced Pineapple Rum) overproof rum
25ml lime juice
1.25ml pernod or other anise liqueur
100ml pineapple juice a dash Angostura bitters
1 tsp grenadine mint sprigs, cocktail cherries and orange or pineapple wedges, to garnish.
How to make it.
STEP 1 Put all the rums, the lime juice, Pernod, pineapple juice and Angostura bitters in a blender with ice and blitz for a few seconds. Or, shake well in a cocktail shaker filled with ice until the outside of the shaker is cold.
STEP 2 Pour the cocktail into a glass filled with ice cubes, then slowly drizzle over the grenadine. Garnish with mint, cocktail cherries and orange or pineapple wedges.