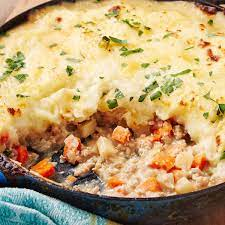 This turkey shepherd's pie makes a healthy twist on an old favorite.
Cook Time: 50 mins
Total Time: 1 hr 15 mins
Servings: 6
Ingredients
Mashed Potato Topping:
3 large potatoes, peeled
¼ cup warm milk
2 tablespoons butter, room temperature
salt and ground black pepper to taste
Turkey Filling:
1 tablespoon olive oil
1onion, chopped
1 pound ground turkey
1 (4.5 ounce) can sliced mushrooms
1 large carrot, shredded
1 tablespoon chopped fresh parsley
1 clove garlic, minced
1 teaspoon chicken bouillon powder
¼ teaspoon dried thyme
salt and ground black pepper to taste
1 tablespoon all-purpose flour
Directions
Step 1 Start the topping: Place potatoes in a large pot and cover with salted water; bring to a boil. Reduce heat to medium-low and simmer until tender, 15 to 20 minutes.
Step 2 While the potatoes are cooking, preheat the oven to 375 degrees F (190 degrees C).
Step 3 At the same time, make the filling: Heat olive oil in a skillet over medium heat; stir in onion. Sauté onion until soft and translucent, about 5 minutes. Stir in ground turkey, mushrooms, carrot, parsley, garlic, bouillon powder, and thyme. Cook and stir until meat is broken up and cooked through, 5 to 7 minutes. Season with salt and pepper. Stir in flour and cook for 1 minute more. Remove from the heat and set aside.
Step 4 Finish the topping: Drain potatoes and transfer to a bowl. Add milk and butter and mash to desired consistency. Season with salt and pepper.
Step 5 Transfer filling to a deep-dish pie pan or casserole dish. Spread topping over filling and swirl with a fork.
Step 6 Bake in the preheated oven until the topping is lightly browned, about 30 minutes.