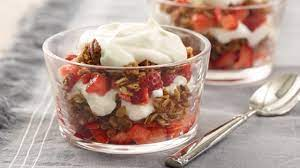 Made with yoghurt, chia seeds, brioche, summer fruits and granola, this is a lighter version of the classic dessert.
Preparation time less than 30 mins
Cooking time no cooking required
Serves 6
Ingredients
For the yoghurt layer
500g/1lb 2oz Greek-style yoghurt
100g/3½oz chia seeds
5 tbsp honey
1 tsp ground cinnamon
For the fruit layer
500g/1lb 2oz frozen summer fruits
3 tbsp icing sugar
1 orange, zest only
For the cake layer
175g/6oz brioche, sliced
175g/7oz granola
For the top
whipped cream, from a can
Method
Step 1. For the yoghurt layer, put the yoghurt into a bowl and stir in the chia seeds, honey and cinnamon. Set aside.
Step 2. Place the frozen fruit in a bowl. Add the icing sugar and orange zest and leave the fruit to defrost. Drain off the excess juice into a bowl for later.
Step 3. Place the defrosted fruit in the base of a trifle dish. Rip the brioche into pieces and mix with the granola. Spread in a layer on top of the fruit and drizzle some of the reserved fruit juice over this layer.
Step 4. Spoon on the reserved chia yoghurt and leave the trifle to sit in the fridge for 30 minutes. Before serving, squirt on some whipped cream straight from the can.