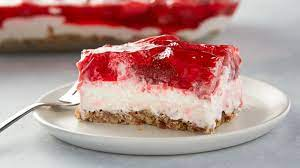 Strawberry pretzel salad is an easy dessert with lots of contrasting textures and flavors. It isn't too sweet, nor too salty, and looks really pretty when you make it in a glass ovenproof baking dish.
Cook Time: 2 hrs 10 mins
Total Time: 2 hrs 30 mins
Servings: 12
Strawberry Pretzel Salad Ingredients
These are the ingredients you'll need to make this top-rated strawberry pretzel salad recipe:
· Pretzels: To easily make crushed pretzels, place them in a zip-top bag and crush them with a rolling pin.
· Butter: Melted butter lends moisture and helps bind the crushed pretzels together, creating a delicious crust.
· Sugar: You'll need white sugar for the pretzel crust and for the fluffy cream cheese topping.
· Cream cheese and whipped topping: Beat cream cheese, sugar, and whipped topping together to make a decadent topping.
· Jell-O and frozen strawberries: Dissolve two packages of strawberry-flavored Jell-O in two cups of boiling water, then combine with frozen strawberries.
How to Make Strawberry Pretzel Salad
You'll find the full, step-by-step recipe below — but here's a brief overview of what you can expect when you make strawberry pretzel salad at home:
1. Make the pretzel crust, press into the bottom of a baking dish, and bake.
2. Make the cream cheese-whipped topping layer, then spread over the crust.
3. Make the Jell-O, then stir in the frozen berries. Spread over the cream cheese layer.
4. Refrigerate the strawberry pretzel salad until set.