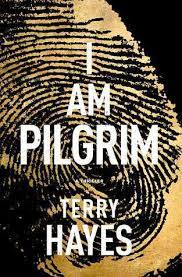 Narrated by: Christopher Ragland,
Unabridged Audiobook,
Categories: Literature & Fiction,
Political,
Espionage,
Suspense,
Publication date: December 2, 2014,
4.5 out of 5 stars,
11,216 ratings,
Length: 22 hrs and 41 mins,
Publisher's summary,
"I Am Pilgrim is simply one of the best suspense novels I've read in a long time." —David Baldacci, #1 New York Times bestselling author.
"A big, breathless tale of nonstop suspense." —Janet Maslin, The New York Times.
"The pages fly by ferociously fast. Simply unputdownable." —Booklist.
A breakneck race against time…and an implacable enemy.
An anonymous young woman murdered in a run-down hotel, all identifying characteristics dissolved by acid.
A father publicly beheaded in the blistering heat of a Saudi Arabian public square.
A notorious Syrian biotech expert found eyeless in a Damascus junkyard.
Smoldering human remains on a remote mountainside in Afghanistan.
A flawless plot to commit an appalling crime against humanity.
One path links them all, and only one man can make the journey.
Pilgrim.