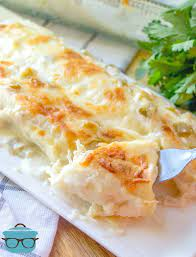 These creamy chicken enchiladas are sure to become a new family favorite! This recipe is so simple to put together and also perfect for using leftover chicken.
Additional Time:30 mins
Total Time: 50 mins
Servings:5
Makes : 10 enchiladas
Ingredients
1 (10 ounce) can Old El Paso® Red Enchilada Sauce
2 ½ cups shredded deli rotisserie chicken
1 ½ cups shredded Cheddar cheese
1 (8 ounce) package cream cheese, cut into 1/2-inch cubes
1 (1 ounce) package fajita seasoning mix*
10Old El Paso® flour tortillas for soft tacos & fajitas
Directions
Step 1 Preheat the oven to 375 degrees F (190 degrees C). Spray a 13×9-inch baking dish with cooking spray. Spread 1/4 cup of enchilada sauce in the bottom of the baking dish.
Step 2Mix chicken, 1 cup of Cheddar cheese, cream cheese, and seasoning mix in a medium bowl; spoon slightly less than 1/2 cup of filling onto each tortilla. Roll up each tortilla tightly; place seam-side down in the prepared baking dish. Drizzle with remaining enchilada sauce. Sprinkle remaining 1/2 cup Cheddar cheese on top; cover with foil.
Step 3Bake in the preheated oven for 15 minutes; uncover and bake 15 minutes longer or until bubbly and lightly browned.