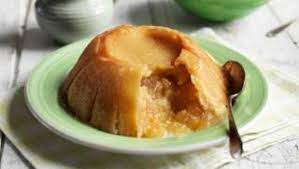 This comfort pudding is a tasty way to use up a glut of apples and day-old bread. Some historians have said it is named after Queen Charlotte, wife of George III.
Equipment: You will need a 2 litre/3½ pints Charlotte mould or pudding basin, and a 4cm/1½in round cookie cutter.
Preparation time less than 30 mins
Cooking time 30 mins to 1 hour
Serves 6
Ingredients
50g/1¾oz lightly salted butter, softened
50g/1¾oz caster sugar
1 loaf medium sliced white bread, crusts removed
For the filling
300g/10½oz caster sugar
100g/3½oz lightly salted butter
2kg/4lb 8oz Cox apples, peeled, cored and cut into 8 equal wedges
For the custard
500ml/18fl oz full-fat milk
1 vanilla pod, seeds scraped
5 free-range egg yolks
30g/1oz caster sugar
Method
Step 1. Preheat the oven to 180C/160C Fan/Gas 4. Generously butter the inside of the Charlotte mould with butter, then dust with the sugar.
Step 2. Using a 4cm/1½in round cookie cutter, cut out rounds of white bread and then line the mould in an overlapping pattern, pressing down to seal as you go. Set the remaining bread aside. Transfer the mould to the fridge while you make the filling.
Step 3. To make the filling, heat the sugar in a large sauté pan over a medium heat until it reaches a dark caramel colour. Tip in the butter and let the mixture bubble for a few seconds. Add the apples, toss to coat in the caramel, then cook over a high heat for 5 minutes, stirring occasionally.
Step 4. Pour the apple filling into the lined mould, then top with enough pieces of bread to seal. Clip the lid on firmly, or if you're using a pudding basin, cover with foil and rest a heavy baking tray on top. Bake for 30 minutes, then remove from the oven and leave to rest for 10 minutes. Turn out onto a warm serving plate.
Step 5. Meanwhile, to make the custard, combine the milk, vanilla pod and seeds in a saucepan and bring to a gentle simmer. Meanwhile, whisk together the egg yolks and sugar in a large, heatproof bowl.
Step 6. Pour the milk through a sieve onto the egg yolk mixture, whisking as you pour to combine. Return the mixture to the pan over a low heat and cook gently for 2–3 minutes, stirring constantly, until the custard is thick enough to coat the back of a spoon. As soon as the custard is cooked, pour into a serving jug. Serve alongside the apple Charlotte.