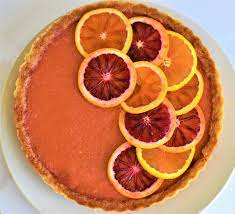 How beautiful is this tart? The season for blood oranges is short, so don't miss the chance to try this.
Preparation time less than 30 mins
Cooking time over 2 hours
Serves 8
Ingredients
200g/7oz sugar, plus extra for dusting
150ml/5fl oz blood orange juice (about 3 oranges)
2 blood oranges, zest only, finely grated
1 tsp orange blossom water
3 free-range eggs, plus 2 yolks, beaten
100g/3½oz butter, cubed
For the pastry
175g/6oz plain flour
100g/3½oz cold unsalted butter, cut into small cubes
25g/1oz icing sugar
1 free-range egg yolk
1 tbsp ice-cold water
For the topping
3 blood oranges, peeled, sliced into rounds
1 tbsp icing sugar
double cream or custard, to serve
Method
Step 1. Whisk the sugar, orange juice and zest, orange blossom water, eggs and egg yolks together in a heatproof bowl until well combined.
Step 2. Add the butter and set over a pan over simmering water. (Do not let the base of the bowl touch the water.)
Step 3. Cook for 15-20 minutes, stirring regularly, until the butter has melted and the mixture has thickened. (The temperature should be 78–80C, if you have a kitchen thermometer.)
Step 4. To make the pastry, put the flour, butter and icing sugar into a food processor. Pulse briefly until the mixture resembles breadcrumbs, then add the egg yolk and water and pulse to combine. Tip the mixture out onto the work surface and knead briefly until the pastry just comes together into a ball.
Step 5. Roll the pastry out into a circle about 27cm/13in in diameter.
Stp 6. Grease a 23cm/9in loose-bottomed, fluted tart tin. Transfer the pastry to the tin and press the sides and corners flush with the tin, allowing any excess pastry to overhang at the top. Cover loosely with a plastic bag or clingfilm and set aside to rest in the fridge for at least 30 minutes.
Step 7. Preheat the oven to 200C/180C Fan/Gas 6. Uncover the pastry case and line with crumpled baking paper, then fill with baking beans (or dried beans or rice). Bake blind for 15 minutes, until the pastry is set, then lift out the paper and beans.
Step 8. Carefully trim the excess pastry from the sides using a sharp knife. Return the empty pastry case to the oven for another 5-10 minutes or until it is golden-brown. Set aside to cool.
Step 9. Spread the orange curd into the cooked pastry case. Arrange the orange slices on the cooled tart and sprinkle over the icing sugar.
Step 10. Using a cooks' blowtorch, heat the sugar until caramelised. Be careful not to catch and burn the pastry edge.
Step 11. To serve, slice the tart and serve with double cream or custard.