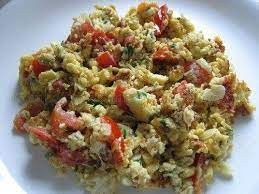 Prep time 5 mins,
Cook time 10 mins,
Total time 15 mins,
Recipe type: Meats,
Cuisine: Caribbean,
Serves: serve 4
Ingredients.
2 tomatoes, chopped,
4 leaves chadon beni, chopped finely,
3 leaves big leaf thyme, chopped finely,
1 sprig chive, chopped,
½ onion,
1 clove garlic, chopped finely,
3 eggs,
½ cup grated cheese,
Salt to taste (optional),
Unsalted butter (about 2 tsp.)
Instructions.
1. Blend together the ingredients, besides the butter. In a frying pan, over a low flame, melt a little butter. Then add the egg mixture. Make sure the fire is low. to give the seasonings time to infuse into the eggs while cooking.
2. Mix continuously to scramble. Fry until golden.