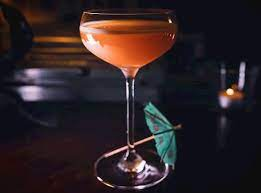 No one likes being cooped up in the house during a snowstorm—or a polar vortex, as the weathermen seem to be calling it these days. That is unless you happen to have all the ingredients on hand to mix up one of these little wintry potions. First cited in the Savoy Cocktail Book in 1930, Damn the Weather is a typical Prohibition style cocktail, complementing gin with vermouth and citrus and rounding the whole thing off with a little bit of triple sec. Orange is the dominant flavor here, but the vermouth adds a certain earthy and herbal note which is accented by the gin. Like many cocktails from the Prohibition era, Damn the Weather contains more than just a little bit of alcohol, but that's alright. You weren't planning on going anywhere anyway, were you?
What you'll need.
· 1 Ounce(s) Gin
· 1/2 Ounce(s) Orange juice
· 1/4 Ounce(s) Sweet Vermouth
· 1/4 Ounce(s) Triple Sec
How to make it.
Shake with ice and strain into chilled cocktail glass.
Serve in a Cocktail Glass.