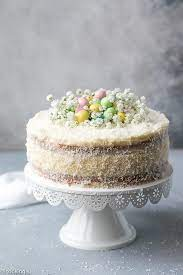 Course: Desserts,
Cuisine: Caribbean
Ingredients.
Crumb crust:
2 cups digestive biscuits finely crushed,
½ cup butter softened,
½ tsp. nutmeg,
½ tsp. cinnamon,
½ – 1 tsp. coconut essence,
Filling:
333 g 12 ounces cream cheese,
15 ml 1 tbsp gelatine,
¼ cup lemon juice,
355 ml 15 ounces coconut cream,
⅓ cup condensed milk,
¼ cup very fine sugar,
Topping:
1 cup desiccated or shredded coconut,
Coconut Cream cheese frosting
Instructions.
Crush or place the biscuit in a food processor to grind smoothly.
Mix together with coconut essence, softened butter, cinnamon and nutmeg.
Press the crushed biscuit into an 8″ pie tin.
Mix the coconut cream and condensed milk. Set aside.
Beat cream cheese and sugar with mixer or spatula for about 2 minutes or until smooth.
Time to melt the gelatine. Place the gelatine in the lemon juice.
Mix to soften then dissolve by heating over hot water or in a microwave.
Note: I prefer heating over hot water. It melts it easily and you don't have to worry if it will dry up in the microwave.
Add the melted gelatine to the cream cheese. Mix well.
Beat together coconut cream mixture, essence and cream cheese mixture.
Mix well until no lumps are visible.
Pour mixture into the pie crust and refrigerate for at least 12 hours.
When set enough, top with coconut cream cheese frosting.
Spread evenly.
Finally, decorate top with desiccated coconut