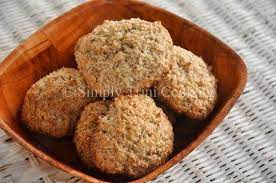 Prep Time, 15 mins,
Cook Time, 15 mins,
Total Time, 30 mins,
Course: Breads,
Cuisine: Caribbean,
Servings: 8.
Ingredients.
2 cups grated coconut,
1 cup all purpose flour packed,
½ cup granulated or brown sugar,
1 tsp aluminum-free baking powder,
2 tbsp butter,
½ tsp cinnamon,
½ tsp nutmeg,
½ tsp coconut essence,
½ tsp. vanilla essence,
1 small egg,
Instructions.
Preheat the oven to about 400 degrees F.
Sift together the flour, baking powder, sugar, cinnamon, and nutmeg. Add the coconut.
Cut in the butter and mix into the flour. Add the essence to the egg and beat lightly.
Make a well in the middle of the flour and add the liquid. Mix into a stiff dough.
Drop about 2-tablespoon full of dough on a well greased sheet.
Bake for about 15 minutes or until golden in the oven at a lower temperature, 200 degrees F.
Remove and leave to cool before serving. Bake for approximately 15 minutes.