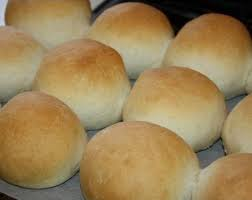 Prep time 100 mins,
Cook time 20 mins,
Total time 2 hours,
Recipe type: Breads,
Cuisine: Caribbean, Creole,
Serves: 10 hops.
Ingredients.
4 cups flour,
1½ tbsp. dry instant yeast, * 2 tsp. sugar,
1¼ cups water,
1 tsp. salt,
Instructions.
1. Sift flour in a medium sized bowl. Add sugar, yeast, and salt. Mix the dry ingredients well.
2. Form a well in the middle of the ingredients and pour the water all at once. Mix with a fork thoroughly before kneading.
3. Knead for 8 to 10 minutes adding flour if necessary to make a medium stiff dough.
4. Grease the bowl and the top of the dough. Cover and allow the dough to rise for about 25 minutes.
5. Punch down the dough and form into balls. Place the balls on a grease tray and cover with a damp cloth, and allow to rise for about 1 hour or until it double in size.
6. Bake in a preheated oven 400°F for 20 minutes.
7. Note: ¾ cups of flour and ¼ cup of whole wheat for this recipe.