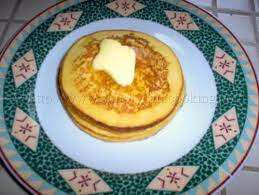 Prep time 10 mins,
Cook time 15 mins,
Total time 25 mins,
Recipe type: Breads,
Cuisine: International,
Serves: 5.
Ingredients.
1 cup flour,
3 tsp. baking powder,
¼-1/2 tsp. salt (optional)
1 tbsp. white granulated sugar,
1 egg,
2 tbsp. oil or melted unsalted butter,
1 tsp. vanilla extract,
½ tsp. ground cinnamon,
½ – ¾ cup evaporated milk.
Instructions.
1. In a small bowl, sift the flour. Add the baking powder, cinnamon. salt and sugar. Mix well. Beat egg and vanilla with hand beater or a fork.
2. Blend in the oil or butter and ½ cup of the milk. Make a well in the centre of the dry ingredients and pour the liquid, mix well.
3. Add the rest of the milk for thinner batter. Grease heated griddle or frying pan if necessary. Pour about ⅓ cup of the pancake mix into the griddle or frying pan and spread.
4. When bubbles appear on top, flip over and cook until other side browns. Remove and place on paper towel. Serve with maple syrup, honey or jam.
Notes,
Variations:
1. Buttermilk pancakes: substitute 1 cup buttermilk for milk. However, decrease the baking powder amount to 1 tsp. and add ½ tsp. baking soda.
2. Cornmeal pancakes: substitute ½ cup cornmeal for ½ cup of flour.
3. Wholewheat pancakes: substitute wholewheat flour for flour. Use brown sugar.
4. Seasoned herbed pancakes (my favorite): remove the sugar, vanilla and cinnamon from the basic recipe and add chopped chive, celery, chadon beni to taste.