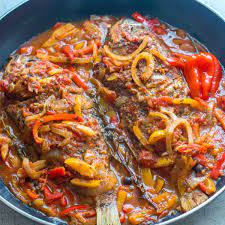 Prep Time, 1 hr 10 mins,
Cook Time, 20 mins,
Total Time, 1 hr 30 mins,
Course: Seafood,
Cuisine: Caribbean, creole,
Servings: 4,
Ingredients.
1 lb fish I used Carite but King fish can be used also,
1 tbsp green seasoning,
2 cloves garlic chopped,
1 lemon,
1 small onion chopped,
2 large tomatoes diced,
1 sprig celery chopped,
1 pimento pepper chopped,
1 leaf big leaf thyme chopped,
1 dash paprika,
1 dash parsley,
Salt to taste,
2 tbsp tomato paste,
3 tbsp oil,
1 tbsp golden ray margarine,
1 ½ cup water divided,
Instructions.
Wash the fish with the lemon and drain. Season with green seasoning, garlic, onion, tomatoes, pimento peppers, big leaf thyme, salt, paprika and parsley. Allow to marinate for at least 1 hour.
Heat the oil over a medium flame. While the oil is heating, scrape the seasoning from the fish and set aside. Add the seasoning and saute for about 2 minutes.
Add the fish and let it steam for 1 minute. Add half cup of water and cover the pot. Allow to cook until tender ( about 10 minutes).
Note: Try not to turn the fish too much while cooking to avoid breaking it up. Add the golden ray margarine.
The fish is cooked but now we have to make the sauce. Add the tomato paste and 1 cup of water. Allow to simmer for about two minutes. Adjust salt if necessary.