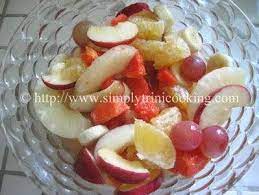 Prep Time, 15 mins,
Cook Time, 21 mins,
Total Time, 36 mins,
Course: Desserts,
Cuisine: International,
Servings: 6,
Ingredients.
1 banana,
1 orange,
1 apple,
1 mango,
1 piece of ripe pawpaw papaya,
1 tin pineapple in light syrup,
¼ lb. grapes,
Instructions.
Peel the orange and remove the seeds. Wash the grapes. Place in a deep glass bowl or your favourite fruit salad bowl.
Separate the pineapple slices from the light syrup.
Set aside the light syrup. Cut the pineapple slices in half or to your liking.
Wash and cut the apple in thin slices. Peel and dice the pawpaw into 2 inch pieces.
Peel and dice the banana. Add to the fruit bowl.
Pour the light syrup from the pineapple over all the ingredients, and toss slightly.
Note: If you use fresh pineapple, you will have to make your own light syrup. This is easy, just boil together ¾ cups of white sugar and 2 cups of water until a the thin syrup is formed. Cool the syrup before using.
Chill before serving.