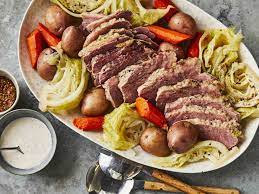 Prep Time, 10 mins,
Cook Time, 30 mins,
Total Time, 40 mins,
Course: Rice Dishes,
Cuisine: Caribbean,
Servings: 4,
Ingredients.
1 tin corned beef,
1 onion chopped,
2 cloves garlic chopped,
½ medium cabbage shredded,
3 tbsp oil, * 2 pinch salt,
2 tbsp green seasoning,
Instructions.
Heat the oil over a medium flame and saute the garlic and onions. When the onions are tender, add the shredded cabbage and allow to cook for about one minute. Cover and allow to steam for about 2 minutes.
Then add the corned beef, green seasoning and salt, and mix into the cabbage evenly. Cover for another minute and a half.
Serve over rice or with bake.