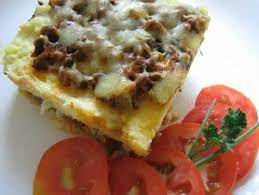 Prep time 15 mins,
Cook time 35 mins,
Total time 50 mins,
Recipe type: Side Dish,
Cuisine: Fusion, International,
Serves: 1 baking dish (8 x 13 x 2″)
Ingredients.
5 medium-sized potatoes,
Water to boil the potatoes,
1 onion, chopped,
3 cloves garlic,
1 /2 cup mushrooms, chopped,
½ lb minced meat, lean,
2 tbsp. oil,
4 tbsp. chive, chopped (divided),
2 tbsp. celery, chopped,
2 tsp. parsley,
1 tsp. thyme,
1½ tsp. paprika,
1 pimento, finely chopped,
¼ cup tomato sauce (or 3 tbsp tomato paste),
Salt and pepper to taste,
¼ cup low fat milk,
1 cup grated cheddar cheese (divided),
1 egg,
Instructions.
1. In another pot, cook the minced meat over a medium fire until brown. Set aside. Tip: The frozen minced meat was added directly to the pot, no oil added, and allowed to cook in its own juices and the water from the melted ice.
2. In a saucepan add the oil and stir fry the onion and garlic. Cook until golden then add the mushrooms. Cook for about 2 to 3 minutes.
3. Return the pot of minced meat to the fire and add the fried onion, garlic and mushrooms. Add the chive (2 tbsp), celery, parsley, thyme, etc. Add the tomato sauce or tomato paste and a little water. Allow to simmer. Add salt and pepper to taste.
4. In a deep pot, boil the water and add the potatoes. Cook until soft enough to be mashed. Tip: To test the potato pierce with a knife and make sure it goes through easily. Peel and mash the potatoes. Add the egg. Add the other 2 tablespoons of finely chopped chive. Finally, add milk and ½ cup of grated cheese. Mix well – mix until the potato forms a smooth paste.
5. Grease a baking dish (8 x 13 x 2 ") and place alternating layers of potato and minced beef. End with meat on the top.
6. Sprinkle the remainder ½ cup of grated cheese on the top and place in the oven to bake for about 30 minutes at 250 degrees F or until golden brown.
Notes More cheese could be added to the top if desired.