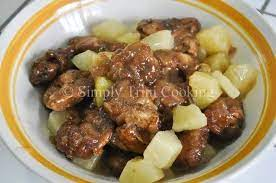 Prep Time, 25 mins,
Cook Time, 25 mins,
Total Time, 50 mins,
Course: Appetizers,
Cuisine: Chinese,
Servings: 10.
Ingredients.
2 lbs. chicken diced,
1 lime,
1 tbsp. soy sauce low sodium,
1 tbsp. rice cooking wine,
½ cup vinegar,
½ cup water,
¼ cup brown sugar,
1 tbsp. peanut oil,
2 tbsp cornstarch + 3 tbsp. water,
cornstarch for dredging,
1- 20 oz. tin pineapple chunks,
oil for deep frying,
1 tsp. salt optional,
1 tsp. five spice powder,
1 tsp. complete seasoning optional,
2 sprigs chive chopped ( for garnish)
1 green and red sweet pepper optional
Instructions.
Wash diced chicken with lime and water. Drain. Season with soy sauce, cooking wine, complete seasoning and 5 spice powder. Marinate for at least 20 minutes. Note: The longer the chicken marinates the better it will infuse the seasoning and taste better. If you can leave it overnight it would be best.
Dredge chicken in cornstarch and set aside for 5 minutes. Heat oil……When ready, deep fry chicken for about 3 minutes or until golden brown.Drain on paper towels.
Now for the Sweet and Sour Sauce. Place pot over medium flame and add peanut oil. When hot add vinegar, water, sugar and 1 tsp salt. Stir and bring to a boil.
Add pineapple, and cornstarch mixed in 3 tbsp of water. Allow to reduce until thick, stirring occasionally. Then add the chicken and mix well. Remove from heat. Garnish with chopped chive (optional). Serve hot.