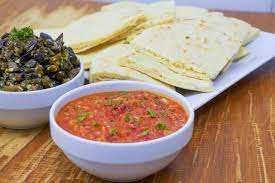 Sada Roti,
Prep time 70 mins,
Cook time 10 mins,
Total time 1 hour 20 mins,
Recipe type: Breads,
Cuisine: East Indian,
Serves: 4 rotis.
Ingredients
4 cups flour, sifted,
4 tsp. baking powder,
1 tsp. salt,
1 ½ cups water or slightly more.
Instructions
1. Combine the flour, baking powder and salt in a medium size bowl. Form a well in the centre and add all the water, and little more if needed to make soft dough. Knead well and form a large ball .
2. Cover the dough with a damp towel and leave to rest for 1 hour. Divide the dough into four "loyah" (balls) and shape them. Again, allow dough to rest for 1 hour.
3. On a floured board, or clean table top, roll out dough using a bailna (rolling pin) till it is about ½ inch thick and round.
4. Cook on a moderately hot tawah ( griddle) until it rises and turns slightly brown. Turn to the other side and cook.
5. Edges are toasted over the fire to ensure they are cooked. The edges will billow slightly. Place on a clean cloth and cover. Serve hot.
Baigan Choka
Prep time 10 mins,
Cook time 15 mins,
Total time 25 mins,
Recipe type: Side Dish, Vegetarian,
Cuisine: East Indian,
Serves: 5
Ingredients
2 medium baigan (eggplant),
2 cloves garlic,
½ onion, finely chopped,
3 tbsp. Olive oil,
Salt to taste, Pepper to taste.
Instructions
1. Place lightly oiled baigan (just rub a little oil on the baigan) over an open flame. Slowly roast the baigan by turning it over the flame until the skin looks thin and paper like.
2. (A variation of this is to make some slits in the baigan and place garlic cloves in it to roast also, thus infusing the roasted garlic flavour into the baigan as it is roasted)
3. Remove from heat and place the roasted baigan on paper. Cut the baigan longitudinally and scoop out the cooked flesh using a spoon and place it in a bowl.
4. Be careful when scooping out the flesh because you don't want any black flecks of the roasted skin with the flesh.
5. Mash the baigan to a smooth consistency and mix in one clove of the chopped garlic and the onion. Fry the other clove of garlic, until golden brown, in some oil using a kalchul (ladle).
6. Pour the fried garlic and oil over the baigan and mix (chongkaying). Expect a sizzle when you begin to pour the hot oil and garlic over the baigan.
7. Add salt to taste.You may add a hint of pepper sauce to the baigan for a more spicy taste. Mix well. Serve hot.