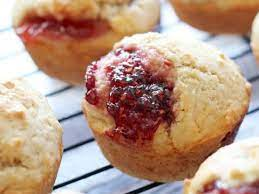 Prep Time, 15 mins,
Cook Time, 25 mins,
Total Time, 40 mins,
Course: Desserts Breads,
Cuisine: International,
Servings: 10 – 12 muffins
Ingredients
2 cups cake flour,
3/4 -1 cup granulated sugar,
1 cup grated carrots,
1/4 cup soft butter unsalted,
2 eggs,
1/3 cup reduced fat milk 2%,
2 tsp. baking powder,
1 tsp. cinnamon,
1/2 tsp. vanilla essence,
1/2 tsp. nutmeg,
1/2 tsp. salt,
Slivered or chopped almonds,
Vanilla cream frosting,
Raspberry jam filling,
Instructions
Grate the carrots.
Place the sugar in a deep bowl.
Beat the eggs. Add to the sugar, add the butter,. Combine the sugar, butter, eggs, milk and vanilla together.
In another bowl, sift the flour, baking powder together. Add the salt. Mix.
Stir the liquids into the dry ingredients and form a smooth batter. * Fold in the carrots. Blend well.
Spoon the batter into the paper muffin cups.
Preheat the oven for 375 degrees F and bake for 20-35 minutes.
Allow to cool.
With an icing tip, cut holes at the top of the muffin. (Place the tip over the muffin, push the tip in a bit and twist the head then remove the tip.)
Fill with raspberry jam. Frost with a vanilla cream frosting. Sprinkle chopped almond nuts.