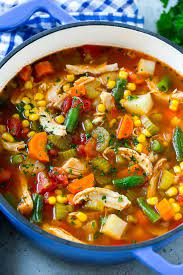 Course: Soups,
Cuisine: Caribbean
Ingredients.
1 sweet pepper chopped,
2 cups broccoli chopped,
1 tin baby corn drained,
2 cups pumpkin diced,
1 cup carrots diced,
1 pimento pepper chopped,
1 lb chicken seasoned and diced,
4 cups water,
salt to taste
Instructions.
Season and put the chicken to boil .
Cut up the vegetables and set aside.
Add the carrots, pumpkin, and stalk from the broccoli.
Let simmer for about 5 minutes.
Then add the pimento, baby corn, sweet pepper and broccoli.
Let simmer until vegetables are tender and the chicken cooked through.
Adjust salt to taste. Serve warm.