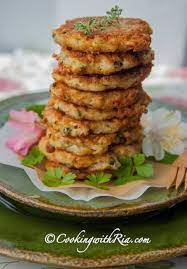 Prep time 120 mins,
Cook time 35 mins,
Total time 2 hours 35 mins
Recipe type: Seafood,
Cuisine: Caribbean,
Serves: 6,
Ingredients.
1 lb potatoes, boiled, peeled and crushed,
1 tbsp. mustard,
1 lb fish (tuna, salmon, marlin, or any firm fish, seasoned (no salt),
1 lime (for washing fish),
2 tbsp. onions, diced,
¾ cup carrots, shredded,
2 tbsp. green seasoning,
1 tsp. paprika,
2 tbsp. celery,
2 tbsp. chive,
1 tbsp pepper flakes (optional),
1 tsp. black pepper,
Salt to taste,
½ cup cornmeal,
½ cup white flour,
¾ cup milk,
Instructions.
1. Wash, and season fish with green seasoning and paprika (any herbs you like really) no salt. Allow to marinate for at least 3 hours.
3. Steam fish for about 15 minutes. (Note: If you don't have a steamer, you could use instead a rice strainer and a pot cover placed over a pot of boiling water.)
5. Boil, peel and crush potatoes. Flake fish when cool and add to potatoes. Add all other ingredients (carrots, chive, celery, onion, mustard, salt to taste) and mix well.
7. Form into egg-shaped balls.
9. Mix ½ cup cornmeal and ½ cup white flour seasoned with pepper flakes. Set aside.
11. Mix ¾ cup milk seasoned with 1 tsp. black pepper. Dip fish cakes in batter then in coating, coat well. Set aside for about 5 minutes. Fry in hot oil until golden brown. Serve cool with your favourite sauce.
Nutrition Information,
Calories: 294, kcal Fat: 7 g, Carbohydrates: 36.9 g, Sodium: 637 mg, Protein: 21.9 g.